Drawing and Painting From Your Travel Photographs
A Proposed Course
The first criteria is that you have a desire to learn to draw and/or paint, or you already draw and/or paint and desire to develop your skills using photo references.
If there are enough people interested in this topic, together we will create a course that will benefit anyone who's been interested in drawing and painting from photographs.
Perhaps you've been to far away places and taken photos of your trip - EXCELLENT - you are the ideal student for this course.
Perhaps you've been to beautiful and interesting places close to home and taken photos - EXCELLENT - you, also, are the ideal student for this course.
Perhaps you wish you could travel and don't think you have any suitable photos for this course. NO WORRIES - I am going to provide photographs of varied landscapes and scenes that we all can use from which to learn. I am providing them copyright and royalty free so you can learn and grow and sell your masterpieces too, if you want to.
What this course is and is not
This is NOT a course on how to draw and paint WHILE traveling. I will offer a few tips on taking art supplies with you and things to consider if you do so.
Primarily, this IS a course on how to grow your memories and experience more joy through taking photographs and then being creative with them in the comfort of your own home and/or studio space.
This course reveals a perfect way to put yourself in the feeling quality of travel without actually going anywhere. This is particularly useful for times when you cannot travel (such as 2020-2021) yet have a photographic record of previous travels.
This course is also perfect to help you plan your photos and art when just getting out for a day-trip close to home. Many times outdoor (Plein Aire) drawing and painting simply isn't feasible (for all the reasons discussed in an upcoming video), but you can take pictures and bring the inspirations home with you.
Watch the demonstrations
As a teacher, I take things slow and methodical to give everyone a chance to absorb what I am doing. The great thing about recordings is that you can watch them as many times as you wish. In the private portal and live classes you will be able to ask all your questions about the demonstrations.
LIVE CLASSES and personal access
There will be weekly study videos to watch that will prepare you for the live component of this course.
Weekly Zoom meetings, with the group, enable you to ask questions directly to me, show your work, receive suggestions and encouragement, and learn from others. It is even possible that some people might be willing to share their travel photographs (although I don't assume that).
Personal access to me, privately. There is a portal in this course where you will be able to submit your work and get direct help from me.
Please review the curriculum outline to determine if this course is right for you.
By the end of this course you will:
   •   feel 100% more confident in taking reference photographs during short and long trips
   •   know how to use your photographs to create drawings
   •   have developed significantly more drawing skills
   •   be seeing more like a fine artist than ever before
   •   (If you do the painting module) you will have developed your painting skills using your travel photos in one or more media.
All of that is possible if you choose to fully participate, keep an open mind, and do the weekly home-play.
Introductory Pilot Course
This course hasn't been developed yet. I need to know if this is a subject that people are excited about and want to learn.
With 10+ years of teaching experience, a lifetime (67 years young) of developing drawing and painting skills (including 4-years of Old Masters studio training), and my love of teaching, I am excited about the opportunity to teach online and help more people fall in love with their travel photographs all over again.
This course will take 12 weeks to complete in total.
If we just do the drawing modules we can keep the course to 8 weeks. That's why I need to talk to you about what you would like to learn.
I plan to put a lot of value into this course, as you can see in the curriculum outline.
BUT FIRST - I need to know if anyone would like to take the course
If you ARE interested - FANTASTIC! - Let me know.
Email me at [email protected]
And I'll send you instructions on how to set up a free 30-minute research chat on Zoom where I promise to not try to sell you anything.
Thank you for reading all the way to the bottom. I'm heartened to know you are curious about this new course proposal.
Kim Victoria
Hi, I'm Kim Victoria
Traveling to Scotland in 2001 with my husband T. E. Watson was a joy. T.E. went back to Scotland in 2003. I love to draw and paint from these travel photographs as it brings back those wonderful, happy memories that mean so much to us.
Mostly I've had the pleasure of traveling around the western United States, and taken lots of photographs.
In all cases, it didn't work out to draw or paint on location, but those photos give me all the inspiration I need.
What I teach is for students to get into the emotional quality they feel for a place before creating art. This simple meditation, if you will, makes all the difference in how well and easily the creation process happens. It can be a magical experience.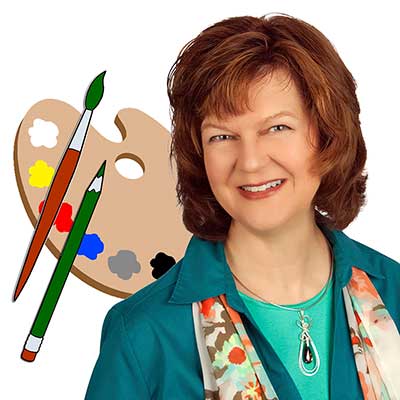 Email me to let me know you are interested
I am in the developmental stage and will get this course moving forward if there is interest. Please email me and let me know and let me know if it is okay to email you back. There is NO obligation.
Thank you!